Industrial Motors
( Click image to enlarge )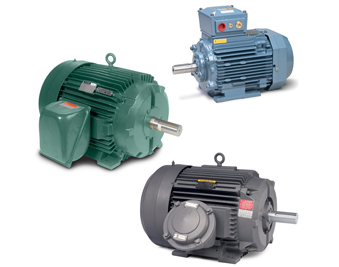 At Bearings & Industrial Supply Co., Inc., we are an authorized distributor for industrial strength power transmission solutions. We carry a large selection of industrial motors that allows you to find the right option for meeting all your production needs. Our inventory of motors includes many of the most popular styles, including:
AC Motors
DC Motors
Gear Motors
Our industrial motors feature an all cast iron surface that surround electrical components to provide maximum protection from severe environments.
We offer a variety of AC motors including general purpose motors, severe duty motors, wash down duty motors, explosion proof motors, farm duty motors, and variable speed motors. We can also provide custom AC motors according to your design specifications. Our customers can choose from RPM III, fractional HP, Super RPM, DMI, round frame, RPM III mine, lifting magnet, and explosion proof configurations.
We are a customer-driven company, providing comprehensive and tailored support and quality products to major enterprises such as Honda, Toyota, Boeing, Chicago Transit Authority, Wynn, and many other Las Vegas gaming industry leaders.
All of our product lines are inventoried and tracked with an extensive e-business framework providing the most efficient distribution for our customers. Our inventory of motors from Baldor, GE, and US Motors provide state-of-the-art performance for heavy industrial machinery, conveying systems, and equipment.
Whatever you need a new industrial motor, the team at Bearings & Industrial Supply is here for you. Our ever-expanding selection is second to none with a current inventory of more than 1 million parts. We believe in taking care of our customers and take pride in the work we do. We provide products for clients locally, domestically, and internationally, so you never need to worry about where your next part will come from. For more information on any of the parts we sell or to place an order, give Bearings & Industrial Supply a call today at (800) 826-9870.