SPX Pumps & Parts
At Bearings & Industrial Supply Co., Inc., our customer base spans many industries for the simple fact that we provide such a diverse range of products. This depth of resources allows us to act as a single source solution, delivering high-value products and a level of expertise and customer service otherwise unavailable in the industry. An example of this can be found in our lines of SPX pumps and parts, including hand pumps, and fittings. As with many of the brands we offer, SPX in a globally recognized leader, with products that deliver unequalled performance and reliability.
Applications
SPX pumps and parts are available in over 150 countries. Their pumps and fittings are ubiquitous in a wide range of industrial applications--from manufacturing process equipment to automation, heavy equipment, and anywhere that hydraulic systems are present. SPX's worldwide status as an industry leader is based on products that are highly engineered and fully developed to meet the demands of the most stringent requirements.
In manufacturing applications where material and processes rely on hydraulics, SPX provides durability and a long service life. In heavy equipment, these products are designed to perform under the most extreme conditions.
Regardless of your application, if you need a hydraulic pump or hydraulic parts, contact us at Bearings & Industrial Supply. You'll be put in touch with an industry professional that can help you select the optimal products for your application.
Industries
All SPX pumps and parts are engineered for extended service life and operational efficiency; they are designed to maximize performance in industries such as food & beverage, power & energy, agriculture, mining, construction, and many more. These industries all pose application-specific challenges for hydraulic systems; they include environmental and process parameters, each with very different requirements. Fortunately, SPX manufactures products to accommodate virtually any requirement, delivering value and performance.
These advantages are not lost on our customers; in fact, we have supplied SPX pumps and parts to a number of globally recognized customers. These include Boeing, Toyota, Honda, Chicago Transit Authority, and many construction companies. These are customers that put their trust in us and SPX for their mission critical hydraulic systems. Contact us today to learn more.
Literature
SPX Pump Parts

PDF-14Mb
SPX Parts

PDF-15Mb
SPX Hydraulic Pumps Catalog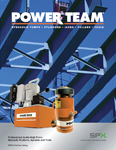 PDF-16Mb